Marathon is the heart of the keys and the gateway to the wonderful "seven mile bridge".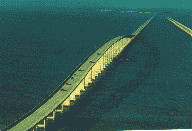 Legend has it that its name derives from the nonstop work that went on when Henry Flagler built his railroad down to Key West.
You will find Marathon a well developed and active town with its own airport. In the early 60's Cuban exiles, supported by the CIA, use the landing strip to stage commando raids in Cuba.